ISCHGL - SILVRETTASEILBAHN AG
Together, the Silvrettaseilbahnen, Ischgl and Design Storz have successfully realised several projects. From gondolas and restaurant furnishings to façade design, there are no limits to the creativity of the Studio Design Storz.
The demand for uniqueness with the corresponding WOW effect is decisive for these projects. Innovative solutions are created to meet the high demands of the Austrian skiing area.
The Piz Val Gronda cable car blends in beautifully with the environment and opens up the freeride area. Two cabins are in use, each with a capacity of 150 people. Up to 1300 athletes can be transported per hour. The design of the cabins is intended to underline the technical requirements by means of the highest design standards.
A self-service restaurant with the aim of offering the young freerider community a unique place to recharge and relax. Inspired by the flair of streetfood markets, the concept was brought to the slopes with the Slopefood Restaurant.
The long tables are designed to promote communication among the guests. The lounge is separated from the dining area by a birch forest and creates an oasis of calm. An armchair lift element has also been restored and blends in perfectly with the overall concept.
Design Storz was commissioned to design the overall concept. From the restaurant furniture to corporate identity and design, everything was created by the Pinzgau design office.
The gondola cabin of the 3-S Pardatschgratbahn is one of three that Storz Design has created for the Ischgl ski area. In one cabin, 28 people can sit on the heated seats and enjoy the ride into the ski area. From the design of the cabin, the choice of materials for the interior to the graphic appearance of the cabin shell, every aspect has been created by the Pinzgau based Design Studio.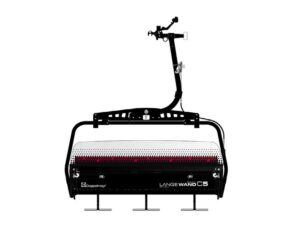 The Lange Wand Bahn is the first chairlift to be powder-coated in black, thus opening up completely new possibilities in chair design.