01
STUDY
Design Consultancy
Systematic Research
Design Thinking
Brand Management
Creative Workshop
Trend Scouting
Design Talks

From theory to the finished product
Design Storz advises companies on all design-relevant topics. The team accompanies you throughout the entire process, from the first meetings to the finalisation of the project. We are also here to assist you with any communication with third parties.
Through detailed, project-specific market research, Design Storz creates an overview of the current range. This is then evaluated and the findings are benchmarked for our customers. Based on this research, the team receives important input for the following creative phase.
This is a creative method in which people and their needs are at the core of the entire innovation process. The ideas are developed in multidisciplinary teams.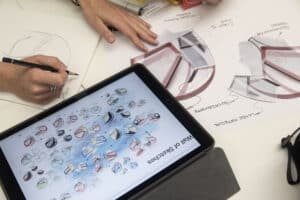 Brand management is the holistic analysis and conception of all elements, from logo to consumer product.
The goal of our creative workshop is to create a precisely defined briefing with the customer. This enables an effective and efficient project flow. Different creative methods are used to suit the customer and their desired outcome.
The detection of new trends, no matter if they concern materials, colours or shapes, is a big part of the daily life as a designer. Through regular visits to trade fairs and exchange with different design offices, Design Storz is always up to date.
Whether lectures or panel discussions, there is a lively exchange of ideas on the subject of design. Achim Storz and his team are happy to provide an insight into the multifaceted work in the design industry.