Lindner and Design Storz have formed a successful team for many years. Together they work on combining agricultural vehicles with innovative technical solutions and functional, sporty design. At first glance, it must be recognisable that this is a vehicle from the Lindner fleet.
In order to strengthen the visual brand image. Whether Geotrac, Lintrac or detailed solutions for the vehicles, it is our passion to generate new solutions in this exciting field.
The design is intended to encompass the technical demands whilst meeting the highest creative requirements.
The aim is that at first glance you can see that it is a Lindner vehicle and thus, strengthen the visual brand identity.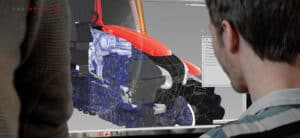 Once the final design concept has been selected, the sketches are constructed as surfaces by our CAD modellers. In doing so, we take into account the technical components, material specifications and tolerances to be observed. Regular coordination with the Lindner engineering team is also part of the CAD process.
The CAD data we create serves as a basis for our visualisations. We create expressive images that show off the design in the best way possible. These images can then be used for presentations or advertising purposes. In addition, different colour, material and finish variants can be visualised in a realistic and simple way.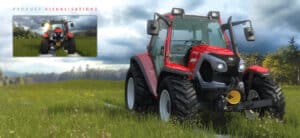 In order to be able to better assess the final design and to detect possible imperfections at an early stage, a scale model is made.
A full-scale model makes sense if you want to check the functionality, as here in the driver's cab. Nowadays this can be done quickly and efficiently with VR.
For the Lintrac 130, the user interface also received a graphic update. Intuitive menu navigation is introduced to the new design.
After an intensive process, people are particularly looking forward to the moment when the new tractor is presented at Lindner. When all the individual details come together to form a well thought-out and functional overall concept, everyone is satisfied.